PRIMA is open . .    Open is PRIMA.
PRIMA is de naam van de geel/wit gestreepte tribune in de voormalige stomerij op het Delflandplein in Amsterdam Nieuw West. Het werk is een visueel baken op het plein. Tot eind december 2011 worden, tijdens de lunchperiodes, voorbijgangers uitgenodigd vanaf de tribune het plein te bekijken en er hun lunch te nuttigen.
PRIMA is een project en initiatief van kunstenaarsduo RoseboomWeemen. Mogelijk gemaakt door het Amsterdams Fonds voor de Kunst en Far West.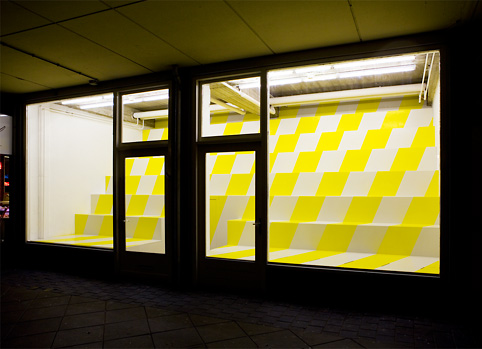 PRIMA (fine or OK) is the name of the yellow-white striped grandstand seating area inside the former dry-cleaner at the Delflandplein Square in Amsterdam New West. Till the end of december 2011, visitors are invited in to watch the square and eat their lunch.
PRIMA is a project by the artist duo RoseboomWeemen and is made possible through the kind support of The Amsterdam Fund for the Arts, and Far West